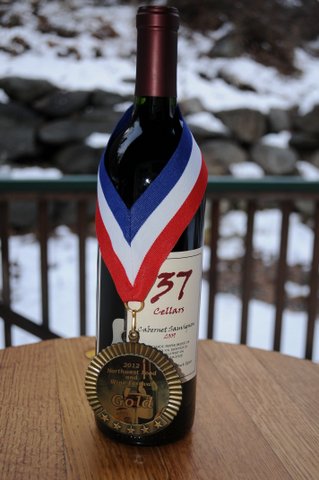 2019 Seattle Wine Awards (Nice haul of medals)
Three Diamonds of the Decade for our 2009 Cabernet Sauvignon, Petit Verdot and Merlot
Double Gold Medal of Excellence for our 2015 Dionysus Vineyard Petit Verdot
Gold Medal of Excellence for our 2016 Dionysus Vineyard Petit Verdot
Gold Medal of Excellence for our 2016 Bacchus Vineyard Cabernet Franc
Silver Medal of Excellence for our 2016 Malbec
2018 Seattle Wine Awards
Gold Medal of excellence for our 2015 Summit View Malbec
Silver Medal of Excellence for our 2014 Pepper Bridge Vineyard Reserve Cabernet Sauvignon
2017 Seattle Wine Awards
Double Gold Medal of excellence for our MV Quartet
Gold Medal of Excellence for our 2014 Cabernet Sauvignon
Gold Medal of excellencefor our 2014 Quintet
Gold Medal of excellence for our 2013 Cabernet Sauvignon
Silver Medal of excellence for our 2014 Merlot
Silver Medal of Excellence for our 2014 Malbec
2017 San Francisco Chronicle Wine Competition
Gold Medal - 2014 Cabernet Sauvignon
2016 Seattle Wine Awards
Gold Medal of excellence for our 2012 Cabernet Sauvignon
2016 San Francisco Chronicle Wine Competition
Gold Medal - 2013 Merlot
2015 Seattle Wine Awards
Gold Medal of excellence for our 2011 Cab Franc from Bacchus and Seven Hills West Vineyards
Gold Medal of excellence for our 2011 Petit Verdot from Sagemoor Farms Dionysus Vineyards
2014 Seattle Wine Awards
Double Gold Medal of Excellence for our 2011 Sagemoor Farms Bacchus Vineyard Merlot
Double Gold Medal of Excellence for our 2010 Quartet
Bronze Medal of Excellence for our 2010 Cabernet Sauvignon
2013 Seattle Wine Awards
Double Gold Medal of Excellence for our 2009 Cabernet Sauvignon
Silver Medal of Excellent for our 2010 Cabernet Franc
Bronze Medal of Excellence for our 2010 Merlot
2013 San Francisco Chronicle Wine Competition
Gold Medal - 2009 Cabernet Sauvignon
2012 Northwest Food and Wine
Gold Medal - 2009 Cabernet Sauvignon
2012 Seattle Wine Awards
Gold Medal of Excellence for the 2009 Petit Verdot
Silver Medal of Excellence for the 2009 Merlot
Robert Parker Oct 2011
2008 Cabernet Sauvignon 90 points
2011 Seattle Wine Awards
Silver Medal of Excellence for the 2008 Cabernet Sauvignon
Silver Medal of Excellence for the 2008 Pepper Bridge Merlot
2010 Seattle Wine Awards
Bronze Medal of Excellence for the 2007 Walla Walla Valley Cabernet Sauvignon
2009 Seattle Wine Awards
Bronze Medal of Excellence for the 2006 CV Cabernet Sauvignon
Wine Press Northwest - Summer 2009
2006 Columbia Valley Cabernet Sauvignon - Rated Excellent
Wines
2014 Pepper Bridge Reserve Cabernet Sauvignon
"Reserve" is a word we at '37 Cellars have never used on our labels; it's not because we don't know how to spell the word, it's a simple function of the real meaning of the word "Reserve" in the quality wine world.
Reserve on the wine label of a top quality winery is reserved for those years when every aspect of the wine, from the growing season thru to the harvest, processing, fermentation, aging in the barrels and bottling all come together in perfect unison creating a wine worthy of that word on the label.
So it is with our '37 Cellars 2014 vintage…we have a "Reserve" quality product to present. This is a 100% Pepper Bridge vineyard cabernet that almost shouts out of the bottle the instant you pop the cork: I am a Cab!
As a 2014, it's young, brash, a bit heady and almost brazen as a teenager, but if you uncork it, decant and let it shout and settle, it will delight you at your meal.

Yes, this is a tannic giant that will easily live in a good cellar for 20 years or more, but it's also ready to enjoy with your meal,

Cases Produced - 45 -- Bottle Price $45. (this will go fast so place your orders now)
2014 Columbia Valley Cabernet Sauvignon
Mind you, we've had some outstanding vintages, most so far over-shadowed by the 2009 Vintage, but we feel the 2009 may be about to be outshone itself. Here's why:

In winemaking, the quality of the fruit is a major factor in the creation of a great wine, and in 2014 the fruit was superb, allowing us to produce this outstanding Cabernet Sauvignon. The aromas are intense and powerful, with notes of black cherry, berry and hints of plum, and the added allure of espresso and a whiff of leather. On the palate, these artfully blend to create a heady, lingering pleasure for the senses.
This wine will lay down well in your cellar – accompanying, perhaps some of the much loved 2009
Cases produced: 100 -- Bottle Price $29.99
2015 Merlot from Pepper Bridge and Bacchus Vineyards
Merlot has often been called a mild imitation of Cabernet Sauvignon - pleasant but not memorable. This wine, made from Bacchus Vineyards fruit, demonstrates what Merlot can be: rich, bold, aromatic and powerful.
Heady aromas of dark fruits lead to sensuous pleasures on the palate. Red meats, game, dark meats of domestic fowl - all will complement it nicely.
Be sure to let the wine open before you begin enjoying it.

With its strong tannins, it will benefit from being decanted for at least an hour or more, and served at the recommended room temperature of an old French chateau or English castle – 55 to 64 degree
Cases produced 75 - Bottle Price $29.99
Columbia Valley Quartet from Pepper Bridge, Seven Hills West, Bacchus and Dionysus Vineyards
A wonderful Bordeaux Style Blend with aromas of black cherries, ripe blackberries and black currants. On the palate you will enjoy a well-balanced wine with dry fruity notes, smooth acidity and balanced tannins leading to a round smooth finish.
Cases produced - 80 - Bottle Price $29.99
2018 Willamette Valley Chardonnay
We started using Oregon fruit Chardonnay in 2015; there's a long, boring story about why, but the bottom line is because we like this wine, and we hoped you would too.​
The 2018 vintage shines, no, it outshines previous vintages both in aromatics and in flavors, but you need to come try it for yourselves. ​
Expect up-front acids somewhat reminiscent of tropical fruits and at the same time, summer green apples, but more importantly, enjoy your delight when you swish and swallow and embrace that lingering, long-lasting finish. Our 2018 Chardonnay epitomizes the qualities of a Chablis Blanc with subtle aromas and flavors and almost haunting presence. ​

Best now thru 2022 with white fish, shrimp, crab or a well prepared chicken Kiev.
Cases produced - 125 - Bottle Price $16.00
We also have limited quantities of 2015 Petit Verdot, 2016 Petit Verdot and Cabernet Franc.

Like us on Facebook